Kooking with KrisT Recipes
La Paradise Welcome to my Paradise- its the Big Island of Hawaii. Sunshine, Surf and the Smell of Gardenias in the Spring. And let's be real, it doesn't feel like Paradise when you are embarking on the world of crepe making. But trust me when you take the plunge at these babies you will remember it with the fondness of your first kiss or the first time you stood up on a surfboard, looking at life from a whole new perspective. So lets get started. 
Ingredients:
CREPE                                            FILLING                                                     GET SAUCEY
1 Cup Flour                                     1/4 cup of Mascapone Cheese                   1/4 C. Mango
2 Eggs                                             2 Tablespoons of Shredded Coconut          1 TBS. Butter
1/2 Cup Coconut Milk                                                                                          1/4 C. Strawberries
1/2 Cup Water                                                                                                     1/2 C. Raw Sugar
1/4 Teaspoon Salt
1 Tablespoon Coconut Oil
1 Tablespoon Butter 
A Word to the Creative
You wanna substitute dark chocolate almond milk and or some hazelnut nutella in place of the mascapone GO RIGHT AHEAD. Don't like coconut? I might call you crazy but omit them and use regular milk. You get the point. Its your kitchen do what you do. :) 
Directions
1. Breathe, sip a mai tai, (if you live in a cold environment, set the heat at 80 and put      on your bathing suit)
2. In a medium bowl whisk together the flour and the salt add 1 egg and a time. Now start to add the milk and the water. Add the butter and whisk it good, like you want to burn the calories you will shortly consume! 
3. Cover the bowl with saran wrap and stick in the refrigerator. Don't skip this step, the more the batter is "Chill" the better it will be.
4. The filling is simple. In a small bowl mix the mascapone cheese and the coconut 
5. Now lets move on to the sauce. If you still have some mai tai left, consider throwing it in the mix at the end so not to burn off the alcohol. I'm serious….
6. Melt the butter add the chopped mangos and strawberries and sugar. keep it  on a low and slow simmer, it will make an AMAZING treat for your taste buds. 
7. Heat and lightly oil a griddle or frying pan over MEDIUM heat. Use a 1/4 measuring cup and pour it in the center of the pan. 
8. Cook for 1 minute on each side. 
9. Put it on a plate and spread the filling. Roll it up like a burrito, fold over, bring in the sides keep rolling. 
10. Now spoon the tropical goodness on top and garnish with shredded coconut and possibly break out the macadamias. Its your canvas paint it like you like it.
11. Unbutton jeans and keep going back for more
TIP
If you are cooking for an army, the neighborhood or just a hungry family, crank your oven to 200 and keep the crepes in there to stay warm. 
Remember to always LIVE ALOHA and Eat to Celebrate Life. Aloha Nui Loa,
xoxoxox,
KrisT
Kooking with KrisT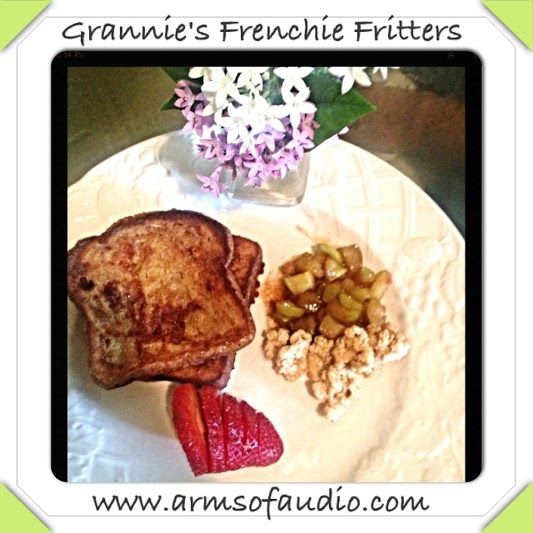 Grannies Frenchie Fritters - I think almost everyone on the planet has memories of Grandma's saturday morning breakfast. Growing up I got to have sleepovers at my Grandmas's house. Every weekend it was kind of like groundhogs day. Grandpa would come home from the bar a little sloshy and want to play a round of Uno. Until he was losing then he would cheat and put any card down, make a stink, throw the cards down and watch WWF in his room. Lol. Grandma's house was always clean and had the smell of lemon pledge and cigarette smoke. She always had a glass of water on the left side of the kitchen sink. She would make my brothers and I hand mixed vanilla milkshakes with ice-cream neatly stored in tupperware. The grilled cheese sandwiches were always perfectly golden crispy browned with gooey velveta that never tasted plastic (like it seems to when I try). Alright enough reminiscing and onto the Frenchie Fritters.
Ingredients:
10-12 Slices of Apple Fritter Bread (found in any bakery section of the store) 
1 Teaspoon of Brown Sugar
1/4 Teaspoon Salt
1 Cup Milk (I always used almond milk or a combination of almond and coconut)
Butter or Coconut Oil
1 Apple cubed and cored
1 Teaspoon Cinnamon
1 Tablespoon Lemon Juice
1 Tablespoon Butter
1/4 cup of half Sugar in the raw and half Brown Sugar
Directions:
1. Now is the time your hoarding will come in handy. Use the old reusable aluminum foil pie plate, you know the one. Don't feel like digging through the cabinets you have  not been able to "organize" since the 90's? Grab a cake pan or baking pan.
2. Crack the eggs, be gentle. Grandmas are always gentle. Now stir in the sugar, salt and milk.
3. Heat the pan to medium and coat the bottom with butter or coconut oil. 
4. Now its time to give the bread slices a soak. Let each side sit in the goodness for a few seconds. Only dip what you are going to make.  
5. Now cook each side of the bread until its golden brown, like you wish your legs looked in the winter. Its about 2 minutes on each side.
6. crank the oven to 200 degrees and line an baking sheet with parchment paper. Leave them in there while we make the apple cinnamon compote.
7. In a medium skillet, add the cubed apples that have been squeezed with lemon juice. (FYI- the citric acid prevents the apples from turning brown)
8. Add the butter, sugar and cinnamon. Cook them until tender  (like your heart) on medium heat. about five minutes. 
9. Grab your favorite blue china plates, your favorite coffee mug (perhaps brewed in a percolator) and the best memories of Grandparents. 
10. Serve warm with maple syrup and apple compote. 
This Saturday will be filled with smiles, maybe some tears as you honor Grandmas and Grandpas. 
Remember to always LIVE ALOHA and Eat to Celebrate Life. Aloha Nui Loa,
xoxoxox,
KrisT
Kooking with KrisT
www.armsofaudio.com
Not Your Fake-N-Bake Orange Chicken- Ok here is truly the inspiration behind this recipe. I grew up in Southern California where "tanning" was pretty much always readily available. Then I moved to Portland where 9 months out of the year, you wear no makeup - it will just run down the face, don't bother with the hair- it will just stay wet and frizzy AND you wear shorts next to damn near never…soooo…why bother shaving or tanning?!? I always judged the fake n bakers they were clearly orange, like the juice man guy. But after three years of being an utterly depressed and down on my thighs, I drove 30 minutes outside of town to a sci-fi looking virtual coffin with bright lights. I asked for 1 session. I will just say no more judging of the Orange. Why? Because being almost undressed with lights that bright made feel like I just took a hit of prozac. Vitamin D- All the way. So there you have it, 3 months later I moved home to Cali. I love Orange Chicken, the only thing that would make this recipe better is those take out  Chinese food boxes, so you can feel like a high powered executive "ordering in"
Ingredients:
Get Saucy (Screwdriver recipe to follow!)
1/2 Tablespoon minced garlic
1/2 Tablespoon ginger
2 Teaspoons orange zest
2 Teaspoons chili flakes (or dried red chiles)
1 1/2 Cup orange juice
2 Teaspoons sesame seed oil
2 Teaspoons rice wine vinegar
2 Tablespoons sugar
2 Tablespoons soy sauce
1 Tablespoon cornstarch mixed in 1 Tablespoon cold water
Breaded Chicken
1/4 Cup Cornstarch
3/4 Cup Flour
Salt and Pepper
2 eggs
Directions:
Orange Sauce
1. Heat the pan to medium heat. 
2. Add garlic, ginger, peppers and orange zest until it smells YUMMY. 
3. Mix all the liquids together and add the sugar and whisk it until it dissolves. Add it to the pan. 
4. Then add the cornstarch mixture. 
5. Turn the burner to low. The sauce will become thick and sticky. 
Breaded Chicken
1. Wash the chicken with Kosher Salt. Then do the Double Dip (not to be mistaken for the party faux pas where one dips a chip in dip and proceeds to dip again exposing the entire dip to one's nasty ass bacteria) 
2. Cube the chicken into 1" pieces.
3.  Dip them in flour, then in egg, then in flour again. Do the harlem shake. Shake off the excess flour and add them to 350 degree oil. 
TIP  Don't overcrowd the chicks in oil. Its not a frat party its more like a quaint gathering
4. Let the chicken fry for 4 minutes
5. Remove from oil and let them rest for 1 minute. What? Their tired!
6. Put them back in for 1 more minute.
They will be golden brown. Super moist on the inside and crunchy on the outside.
Serve over rice. Garnish with toasted sesame seeds and green onion. If you want to be fancy plate it with orange peels and segments and ALWAYS clean around the rim of the plate. 
Remember to always LIVE ALOHA and Eat to Celebrate Life. Aloha Nui Loa,
xoxoxox,
KrisT
The O.M.G. Burger- Onion. Mushroom. Grass fed Beef Burger. Ok. Truth be told, that wasn't grass fed beef. It was "about to expire, on sale kind of beef" But I needed the "G" in O.M.G. So Burgers for me are kind of like Donuts. i can have them any time of day and of any variety. And when it is date night there is no bother asking what I am in the mood for. I just say something, with my cute nose in the air, that goes a little something like this " Seriously we have been married for 6 years. I "feel" like a cold beer - biggie size and a steakhouse burger!" And there you have it. 
Ingredients:
4 Hamburger Patties
2 Cloves of Garlic - Chopped
Mushrooms
Onion
Jalapeño Peppers (I'm Sassy and Spicy- so I leave the seeds in to get more heat and a runny nose- You don't have to)
Herbed Cheese like Boursin
Everything Bagels (Target rocks. These babies cost 1.57 for 6. And lets be real I live in Hawaii where a loaf of bread cost 7 Georgie Bills)
Directions:
I used the George Foreman grill..
1. Slice the Mushroom, Onion, Peppers and Garlic.
2. Place on the Foreman and close the lid. Remove the Holy Wow Veggies and reserve them. for later
3. Cook the Patties for 1 1/2 minutes on each side and let it rest for 5 (thats a good medium)
4. As they are resting add a generous spoonfulfull of Borsein on the top and let it melt.
5. Toast or grill the Bagel. Assemble the Burger
6. Get in your yoga pants - you know the ones I am talking about the ones that make you look like your working out but aren't. Pour a Pint of your Favorite Beer. Have a steakhouse burger on the living room floor with a Netflix marathon.No you can not have my password. :)
Remember to always LIVE ALOHA and Eat to Celebrate Life. Aloha Nui Loa,
xoxoxox,
KrisT
Kooking with KrisT
Nutty Chicks Get Baked- Ok I named this just as a play on words. (If I were "Baked" I would have shown a triple portion of the meal, fried with Doritos or something weird like that) And to be honest, I have never smoked Pot nor have I "inhaled" as a famous person once said. Not for any other reason than I just don't feel like it, and why turn away from Alcho Hol one of my besties. :) This recipe is awesome its one of those-  "How did something that healthy not taste like rabbit food?"
Ingredients:
6 Chicken Breast Tenderloins
2 Egg Whites
1 4oz Container of Plain Greek Yogurt
Coconut Flour
Chopped Hazelnuts or Macadamia Nuts
Cooked Rice (Brown is better but everyone needs a little zero purpose carbohydrate every now and again. I don't judge. I eat donuts)
Any kind of vegetables you want. 
Directions
1. Preheat the oven to 350 
2. Marinade the chicken in yogurt, paprika, salt and pepper
3. In one container get your egg whites whipped and I mean whip it good. If you are going to be heathy you might as well get a workout while making dinner. So grab the whisk and do it until it doubles in volume (kind of like your hair in the 80's) and set aside.
4. Dip the chicken in flour, then in egg whites, then in the nuts. 
5. Spray the chicken with Olive Oil Spray and cook them for 25 minutes. 
6. Show off your meal by using an ice cream scooper for the rice and go ahead- play with your food. Arrange your vegetables to make flowers, hearts, even airplanes. 
So there you have it, Here is a quick tip for weight loss. Celebrate every small victory. EXERCISE. Have a sweet here and there. And eat apples :) I have dropped a size this last week doing it. So can you.
Remember to always LIVE ALOHA and Eat to Celebrate Life. Aloha Nui Loa,
xoxoxox,
KrisT
Kooking with KrisT
The Spice You Up Salad- One of my nicknames should be a Spice Girl- given my sass, my spice and my bootie shaken moves I do in front of the mirror when no one is watching. I like Heat so much that I while I was single I had a roommate that hated hot food. She always complained when I would make it. But one day I crossed the line. The dreaded line. She came in the door, eyes began to water, sneezing started and then the cough. Worse than Grandpa's 50 years of smokers cough. I knew I was gonna get an earful. So I braced myself. NEW RULE- NO MORE TORTILLA SOUP IN THiS HOUSE. So now that I am married my husband LOVES to Spice things up (I mean that in more ways than one :) ) So get ready to get your metabolism reved up. Join the club of "thank you sir may I have another" with watery eyes, sweat dripping on your red face and taste buds doing the Salsa.
Ingredients:
Spicy Salad
2 Cups Kale, Spinach, and Arugala
1 Can of Rotel Tomatoes with Habaneros
1 Can of White Northern Beans ( You can use Black Beans)
1 Heaping Handful of Pepitas (thats roasted pumpkin seeds)
Lime Juice
Salsa Verde 
Carne Asada Wrappers
4 Rice Wrappers
A Pan of Warm Water with Taco Seasoning in it
Chopped Kale, Cilantro, Red/Green Peppers, Garlic, Jalapeño
Carne Asada or Chicken (cooked)
Directions:
1. If you need directions on how to assemble a salad, you may need to evaluate your intake of vegetables. Just make sure the veggies are washed, and look at the picture.
2. Wrappers- You have the option to cook them or not. Soak one wrap at a time for 10 seconds in the luke warm taco water
3. let it stand for 30 seconds when you take it out, it makes it more playable. 
4. Pretend its a burrito and right around the middle fill it with the cooked carne asada and all the fixings. Now fold it to right past the filling bring the sides up and keep rolling. 
5. For the fried wraps heat the oil to medium (avocado oil is the bomb) Fry for 1 minute on each side.
6. To cool it down about, take 1 clove of chopped garlic, 2 teaspoons of lime juice, salt pepper and cilantro. Add it to 1 small container of either plane or mango yogurt. Its YUMMY.
Now here is a tip for those of you who aren't big spice eaters but love the concept. To mild it down a bit, seed the jalapeño. Omit the tomatoes with cilantro and lime. 
Remember to always LIVE ALOHA and Eat to Celebrate Life. Aloha Nui Loa,
xoxoxox,
KrisT
Kooking with KrisT
Its Saturday Hang Ten- Rain or Shine (that means mostly rain in Hilo) we take Saturdays OFF. Its a day that we usually get Poke Bowls. Thats Fresh raw fish caught that day from Suisan, the local fish market. They toss it in sesame oil. ginger, red pepper, garlic and seaweed. Served over rice. It rivals filet mignon. Its that good. This particular Saturday we were celebrating that start of something AMAZING happening for Arms of Audio. So get in your wetsuit and grab a board. Then come into my kitchen for the BEST surf-n-turf you will ever have.
Ingredients:
Seared Scallops
6 Large Scallops
White Wine
Butter
2 Cloves of Garlic
Lemon and Zest
Aspargus
Olive Oil
S and P
Steak
Kosher Salt and Black Pepper
1 Tablespoon of Boursin
2 Russet Potatoes
2 Cloves of Garlic
King Crab Parts (not the fake ones)
Garlic Butter
Directions:
Seared Scallops
One bad experience can ruin something for life. So was the case with Scallops for me. I had a chewy bland rubber band. Until I had a fab surf n turf at the Getty Museum Restaurant. So here is a TIP. Do not over cook them. 
1. Get the marinade ready 1/4 cup White Wine. Juice of 1 Lemon, Zest, Garlic and 2 Tablespoons of Olive Oil Let them marinate for 20 minutes.
2. Heat the pan to medium. Melt 1 Tablespoon of Butter and 1 Tablespoon of Olive Oil (mixing the two prevents smoking and burning butter)
3. Pat dry the scallops and season them with salt the pepper. The dryer the better. Moisture makes things soggy and we are not going for oatmeal here people.
4. Place in the pan, don't overcrowd them- it drops the temperature and you want them to be golden. 
5. Cook on medium 3 minutes on each side and set aside
6. To the butter and olive oil, add 1/2 to 1 cup of wine, a clove of garlic and lemon juice. simmer it on low until it reduces by half and becomes thick.
Asparagus
1. Cut or Snap the ends of the Asparagus off. Place on a baking sheet
2. Drizzle with Olive Oil and Salt and Pepper
3. Using Tongs, roll the asparagus to make sure they are properly coated
4. Bake at 425 for 12 minutes
Potatoes
1. Wash Potatoes (Peel them or don't)
2. Slice the Potato until you get very close to the bottom- the goal here is to leave the potato in tact. 
3. Place garlic in between each slice
4. Gently pull each section to give a little more space.
5. Drizzle with Olive Oil and Salt and Pepper
6. Bake at 400 for 40 minutes
Steak
1. I always use the George Foreman. Pre heat it.
2. Pat Dry the Steak after washing it with kosher salt
3. Place on the grill and season with Salt and Pepper
4. Flip in 2 minutes and Season and cook the other side for 2 more minutes 
5. Put them on a platter to rest with a heaping spoonful of Boursin
King Crab
1. Simple its already cooked
2. Warm it in butter and garlic on medium low for about 2 minutes.
There you go its 12 pages of instructions for the best meal of your life. Once you get down and dirty it'll take you no time at all. Happy Surfing and Turfing.
Remember to always LIVE ALOHA and Eat to Celebrate Life. Aloha Nui Loa,
xoxoxox,
KrisT
Kooking with KrisT
APRIL showers bring MAY I have a Spring Roll- The term April Showers makes no difference when you live in Hilo. Just listen to the song Hilo Rain. But here is the amazing part of Spring in Hilo. The gardenias. I get at least 3 a day that bloom and the fragrance makes me feel like a true Wahine. Which brings me to my next inspiration for this- put a spring in my step- kinda meal. Just as Mexican cuisine has cilantro, cumin and peppers, Italian- basil, tomatoes and garlic. Hawaiian has ginger, sesame oil, chilies and basil/mint. I am on a mission to lose 20 lbs so that means a little less local and a little more dainty with the flavors I love. The next time you see a gardenia think of me and my kitchen. Then close your eyes and see if you can sniff the flavors of the islands.
Ingredients:
Spring Rolls
Rice Wrappers
Luke Warm Water
2 Grilled Chicken tenderloins chopped
1 Clove Garlic Chopped
1 Tablespoon Grated Ginger
1-2 Tablespoon(s) chopped mint and basil
1-2 Tablespoon(s) chopped kale
1-2 Tablespoon(s) grated carrot
1 red chile (seeded for mild)
Green and Red Pepper
Salad
1 Cup Kale, Spinach and Arugula
1 Cup Organic (non GMO) Soybean Pasta - compared to wheat pasta this baby has 23 grams of protein and 11 grams of fiber. 
2 Grilled Chicken Tenderloins Chopped
Fresh Mint and Basil
Dipping Sauce and Dressing for the Salad
1 Tablespoon of Sesame Oil
1 Tablespoon Rice Wine Vinegar
1 Teaspoon Grated Ginger
2 Teaspoons Red Chili Oil
Salt and Pepper
Directions:
1. Make the dressing and set aside. Just mix all of the ingredients. Before serving give it a good shake.
2. Make the Salad. ALWAYS wash your produce. Lets be honest, you don't know what tracked through the garden if you know what I mean. 
3. Spring Rolls are a cinch (like your waist line, when you get the hang of them) The trick is the roll.
tight, like your abs doing crunches.
4. Soak a rice wrapper in luke warm water for 10 seconds then set it on the board with you veggies. 
5. Let it hang out for 30 seconds. It makes it pliable. 
6. Fill it with the goodies and roll it like a burrito. Roll it right over the filling bring in the sides, and roll it tight.
Making the main course a salad is a much better way to get more veggies in your diet. The chicken was just a garnish. And adding a good for you carbohydrate is waiving goodbye to spikes in blood sugar and your tummy. 1 meal at a time. 
Remember to always LIVE ALOHA and Eat to Celebrate Life. Aloha Nui Loa,
xoxoxox,
KrisT
Man +Grill = Steak. Have you ever noticed a man gets all cave-man like when there is raw meat and a grill in front of him. Its like been thrown back in time and watching a real life Fred and Betty Flintstone dinner scene going on. Men seriously crack me up, stepping foot in the kitchen is like being sent to Alcatraz. Snap a picture the next time he stands in front of the refrigerator. Its like watching a deer in headlights. The thoughts that can be translated are something like sounds more than words. But enough of poking fun- I'll just hear about the double sink belonging soley to me and my spread out make-up, creams, irons, dryers, and about 27 singles sheets of tissue with a pink lip stain to tone down my trademarked pink lip stick. So while I patiently wait on dinner I with my glass of wine. I will post this "I am man hear me roar" of a recipe.
Ingredients:
Steak
Red Wine
2 Cloves of Garlic
Kosher Salt
Black Pepper
Heaping spoonful of Boursin Cheese
Parsley
Thyme
Mushrooms
Butter
Rice
Assortment of Veggies
Chopped the Same Size
Directions:
1. Marinate the steak for 4-6 hours in 1 cup of Red Wine, salt, pepper, 1 Tablespoon of Olive Oil and 2 cloves of garlic. 
2. Crank up the Grill (if its rainy outside use the trusted George Foreman or grill pan)
3. Pat the steaks dry season both sides with salt and pepper
4. Grill for 2 minutes on each side
5. Let it Rest. Humans need it, Meat Needs even God needed it. So let it sit there and add at heaping spoonful of Boursin cheese. 
6. For the Veggies (chopping them the same size will make them cook evenly) Drizzle and Toss them with Olive Oil and Salt and Pepper 
7. Inside- 425 for 12 minutes. Outside Wrap them in foil and Grill for about 15 minutes.
8. Mushrooms. The best Fungi around. Just take a trip to Italy and order Fungi Pizza and soon enough you will get over the "OMG N-A-S-T-Y Face" 1. rub the mushrooms with a dry cloth watering them is not a good idea. 
9. Heat the pan to medium and sauté the butter and garlic until it smells good. Then add the mushrooms, spit of thyme and parsley. Hit it with some Salt and Pepper and in about 5 minutes you will have the steak rested and mushrooms to top it. 
10. Men from Hawaii like Rice with every meal. You can eat a potato instead. 
As a side note I feel in love with my husband while we were dating. He wanted to make his fave Hawaii style dinner. Good ole box of mac -n- cheese, spam, and broccoli. He melted my heart and lets just say he had me at Spam. (Quite literally actually…we met online :))
Remember to always LIVE ALOHA and Eat to Celebrate Life. Aloha Nui Loa,
xoxoxox,
KrisT
Kooking with KrisT
Veggie Goddess- That brings so much to my imagination. Like a Music Video featuring the Mr. Juicer Orange Guy, the Jolly Green Giant, the Smurfs and those sniff markers from back in the day. I get the importance of eating vegetables but for so long people have tried to mask the flavors rather than enhance them. Thats the big kicker. So lets change that. Seriously roasting vegetables with oil and salt and pepper makes for slightly crunchy, lite taste of heathy yumminess and for a moment you feel damn accomplished for eating a plate full of cleansing goodness.
Ingredients:
I recommend going to your local farmers market and buying what is the freshest, in season, veggies.
No Matter what kind you choose, Cut them all the same size
Olive Oil 
Salt and Pepper
2 Cloves Chopped Garlic
Directions:
1. Wash your vegetables - if you do not have alkaline water use hydrogen peroxide to wash them. Rinse them in cold water and then pat them dry.
2. Transfer to a shallow Jellyroll Pan or Baking Sheet. Drizzle and Toss with Olive Oil Season with Salt and Pepper
3. Bake at 425 for 12 minutes. 
Make simple vinaigrettes to pour over the roasted vegetables to ENHANCE the flavors, not mask them. Try mixing White Wine Vinegar with Olive Oil and add some crushed red pepper. Its Yum. 
Remember to always LIVE ALOHA and Eat to Celebrate Life. Aloha Nui Loa,
xoxoxox,
KrisT
Kooking with KrisT
www.armsofaudio.com
Tags: Kris T, food , kooking, Hawaii, Hawaii Entertainment, Kooking with KrisT, food porn, recipes, crepe, tropical , surf, recs